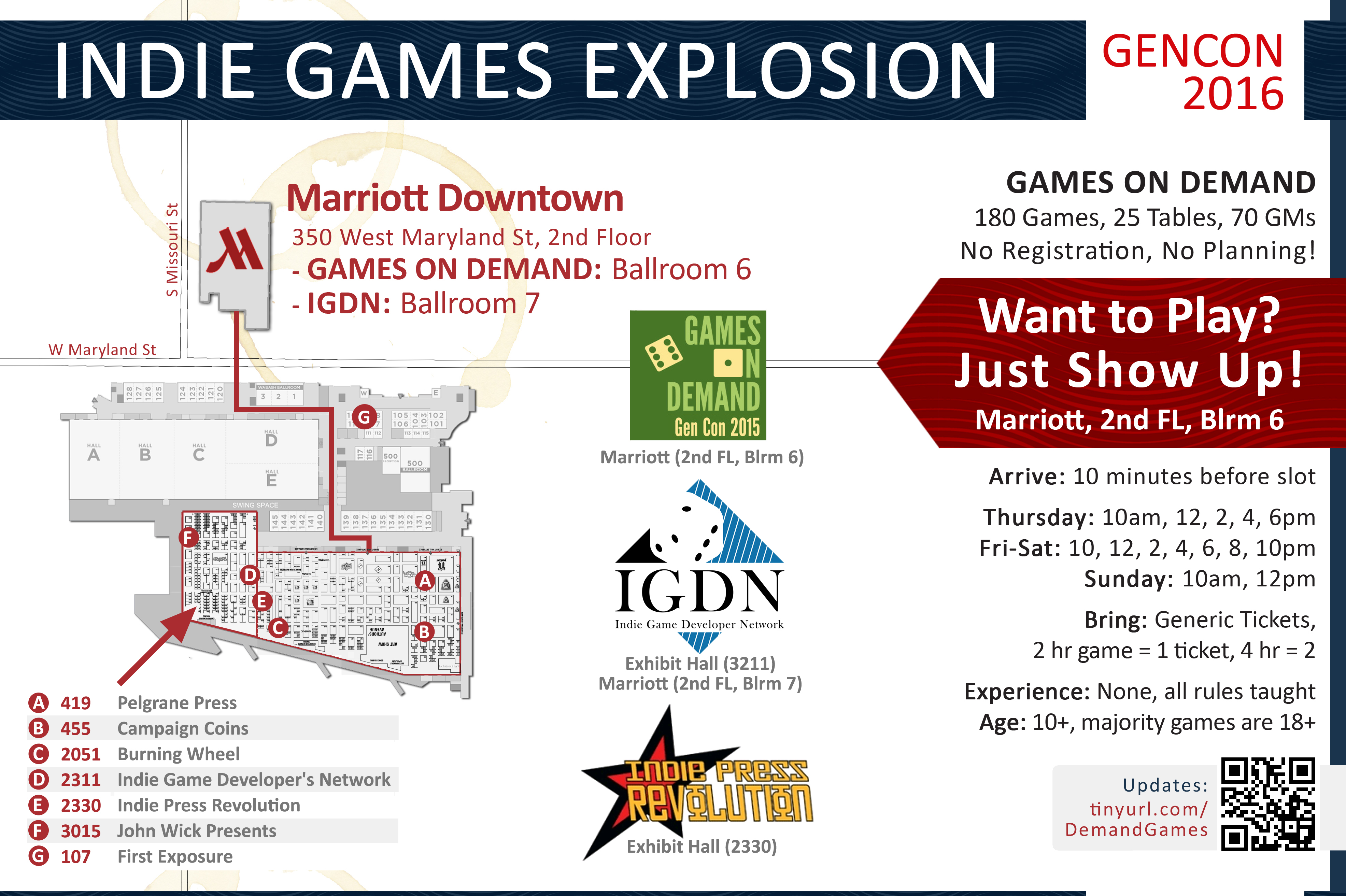 GenCon
is next week!
Holy troat!
Somehow or other, I already have a pretty full schedule for the con. Here's what I know so far:
Thursday, 1pm: The Sparks Nevada Thrilling Adventure Game.
Thursday, 5pm: State of the Hat, the Evil Hat what's-goin'-on panel. Yay, doing a panel! For future reference, I would do more panels. Panels seem fun. Are you putting a panel together? I bet we can contrive a reason for me to be on it!
Friday 10am: GMing at Games on Demand (pictured above). It's only a two-hour slot, so odds are good it'll be Sparks Nevada.
Friday 2pm: Atomic Robo: The Roleplaying Game.
Friday 7-ish pm: Attending the ENnies. I may be missing an Indianapolis Indians game for this, so some Evil Hat Fate thing had better win something to make this worthwhile.
Saturday 2pm: GMing at Games on Demand again. Four-hour slot, which makes Atomic Robo or my ARRPG-based Crimson Skies thing likely.
Sunday 10am: My last two-hour stint at Games on Demand.
I'm also currently slated to play a few scheduled games, including a one-hour
D&D 5E
demo-intro-thing Thursday morning, a
Tunnels & Trolls
game (with Ken St. Andre!) Saturday morning, and some
Crimson Skies
(the WizKids minis game) Saturday night. But... I dunno if the
D&D
and
Crimson Skies
games are going to make the final cut. For one thing, the shuttle to and from the convention center is an hour. For another, back when I booked those games, I was like "OMG, what will the new edition of
D&D
be like?!" (I've since played it more than a little) and "If I'm going to run a Fate Crimson Skies game, I should probably play the minis game" (I've since become... less convinced of the necessity of this).
But there is zero chance of me missing that T&T game. And I have plenty of generics, so come at me, bro.
I'm also trying to leave more gaps in my schedule for GoD or off-the-books games or, like, someone saying, "Hey, I want to talk to you about this project," which, based on the past few months, is a thing that could conceivably happen. If you interpreted that statement an assertion that I am so important and in-demand that I expect people to be stalking me just for the mere chance of hearing words fall out of my mouth, you are absolutely correct.
Seriously though, it's nothing like that. It's more like this is my fourth year at GenCon, and every year I promise myself that "Next year, I'm not going to sign up for any games in advance! All the cool stuff seems to happen at GoD and in off-books games!" and then I've done the exact opposite of that three times now. So I'm trying for a late-game course-correction here.
Anyway, see you there. And hey, if we
don't
see each other there, then maybe I'll see you at
Gateway
, because it's only two weeks after GenCon, which was only two-and-a-half weeks after
Comic-Con
.
I'm freaking out.